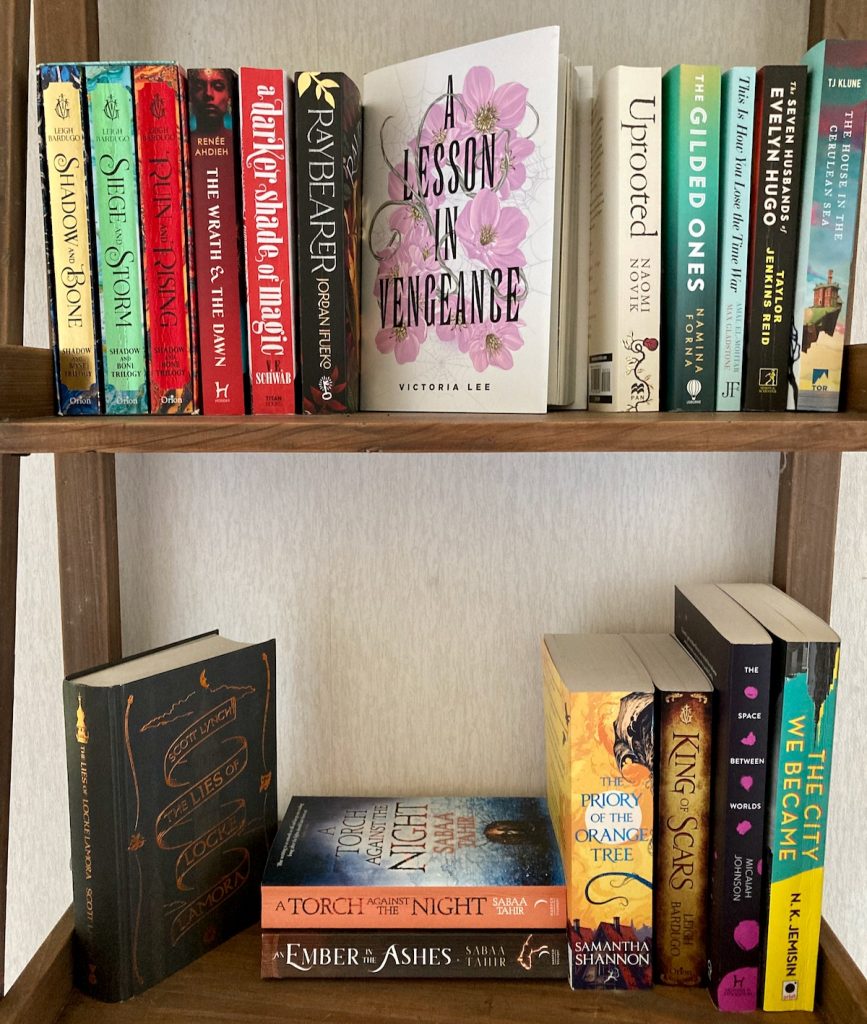 My genres this quarter were my usual mix of fantasy, sci-fi, and contemporary romance, with the odd crime/thriller thrown in for variety. Here in Auckland, we've spent the last two months and change in lockdown, so I'm still preferring escapist fiction over anything too dark & difficult.
20 years after it was published, I finally picked up the 4 books of the Inheritance Cycle by Christopher Paolini ($40 for the set in paperback from The Warehouse). The first book, Eragon, was unexpectedly hard-going: small print in a thick paperback combined with a story that was irritatingly derivative and full of flat characters and predictable plot beats. After I finished it, I discovered that the author was a 16 year old boy at the time of writing, which explains why this book felt like pretty average Lord of the Rings fan fiction with dragons. I have yet to start the second book, but apparently it does get better.
Part of the problem is that I've been reading so many excellent fantasy books that it's hard to motivate myself to pick up something mediocre! This quarter, I also identified Dark Academia as a genre that I particularly enjoy, and have finished quite a few of these sorts of novels – and have added many more to by TBR (To Be Read) list.
I'm on GoodReads, where you can see what I am currently reading, what I've read, and what I want to read in the future (that ever-growing TBR)! I even occasionally write reviews, but they're mostly so I can remember my own thoughts about the book.
July
The Forger and the Thief by Kirsten McKenzie
A Vow So Bold and Deadly by Brigid Kemmerer
Black Sun by Rebecca Roanhorse
This is How You Lose the Time War by Amal El-Mohtar & Max Gladstone
The Seven Husbands of Evelyn Hugo by Talor Jenkins Reid
Old Man's War by John Scalzi
The Ghost Brigades by John Scalzi
The Last Colony by John Scalzi
Hunted by the Sky by Tanaz Bhathena
Gild by Raven Kennedy
Glint by Raven Kennedy
Gleam by Raven Kennedy
Catacombs by Anne McCaffrey & Elizabeth Ann Scarborough
A Court of Mist and Fury by Sarah J. Maas
A Court of Wings and Ruin by Sarah J. Maas
A Court of Frost and Starlight by Sarah J. Maas
A Court of Silver Flames by Sarah J. Maas
The Raven Boys by Maggie Stiefvater
The Long Way to a Small, Angry Planet by Becky Chambers
Credence by Penelope Douglas
Birthday Girl by Penelope Douglas
Project Hail Mary by Andy Weir
To Kill a Kingdom by Alexandra Christo
Corrupt by Penelope Douglas
The Ones We're Meant to Find by Joan He
The Cruel Prince by Holly Black
Zoe's Tale by John Scalzi
Charmed Life by Diana Wynne Jones
The Lives of Christopher Chant by Diana Wynne Jones
Witch Week by Diana Wynne Jones
The Magicians of Caprona by Diana Wynne Jones
The Sweetest Oblivion by Danielle Lori
The Bridge Kingdom by Danielle L. Jensen
The Wrath and the Dawn by Renee Ahdieh
Eragon by Christopher Paolini
The Song of Achilles by Madeleine Miller
Get A Life, Chloe Brown by Talia Hibbert
August
Under the Black Banners by K. Elle Morrison
Auē by Becky Manawatu
Conrad's Fate by Diana Wynne Jones
House of Earth and Blood by Sarah J. Maas
People We Meet on Vacation by Emily Henry
Aurora Rising by Amie Kaufman & Jay Kristoff
Hexwood by Diana Wynne Jones
Red, White & Royal Blue by Casey McQuiston
This Poison Heart by Kalynn Bayron
A Lady of Rooksgrave Manor by Kathryn Moon
An Ember in the Ashes by Sabaa Tahir
Tripswitch by Gaelyn Gordon
It Ends with Us by Colleen Hoover
The High Mountain Court by A.K. Mulford
A Deadly Education by Naomi Novik
Stalking Jack the Ripper by Kerri Maniscalco
The Gilded Ones by Namina Forna
The Lies of Locke Lamora by Scott Lynch
Uprooted by Naomi Novik
Tempests and Slaughter by Tamora Pierce
The Atlas Six by Olivie Blake
Ninth House by Leigh Bardugo
A Torch Against the Night by Sabaa Tahir
Crossfire by Dick Francis
Under Orders by Dick Francis
A Darker Shade of Magic by V.E. Schwab
The Secret History by Donna Tartt
Wolf by Mo Hayder
Bowl of Heaven by Gregory Benford & Larry Niven
The Vine Witch by Luanne G. Smith
These Witches Don't Burn by Isabel Sterling
September
The Binding by Bridget Collins
The Mistake by Elle Kennedy
Dark Orbit by Carolyn Ives Gilman
The Unhoneymooners by Christina Lauren
The Unspoken Name by A.K. Larkwood
Lord of Eternal Night by Ben Alderson
Pretty Girls by Karin Slaughter
Take a Hint, Dani Brown by Talia Hibbert
The Eye of the World by Robert Jordan
Act Your Age, Eve Brown by Talia Hibbert
Scrublands by Chris Hammer
The Kiss Quotient by Helen Hoang
It Happened One Summer by Tessa Bailey
The Good Girl by Alice La Roux
Raybearer by Jordan Ifueko
A Lesson in Vengeance by Victoria Lee
The Merciful Crow by Margaret Owen
Lore by Alexandra Bracken
Rivers of London by Ben Aaronovitch
Moon Over Soho by Ben Aaronovitch
Whispers Underground by Ben Aaronovitch
Broken Homes by Ben Aaronovitch
Foxglove Summer by Ben Aaronovitch
The Furthest Station by Ben Aaronovitch
The Hanging Tree by Ben Aaronovitch
Lies Sleeping by Ben Aaronovitch
False Value by Ben Aaronovitch
My Dark Vanessa by Kate Elizabeth Russell
The Bride Test by Helen Hoang
Priest by Sierra Simone
Aspergirls by Rudy Simone
The Seven Sisters by Lucinda Riley
Child of Fear & Fire by G.R. Thomas
101 in total