The parents of my maternal grandmother, Valerie Julia LIMA, were Frederick James LIMA and Alice Mary WARD.
Frederick James LIMA was born 20 September 1902 in Otaki, Kapiti Coast, Wellington, NZ, to Antonio LIMA and Mary Ann TURNER, and baptized at St. Mary's on April 4, 1905, as James Frederick. He was known as Fred. He had eleven siblings; Mary Veronica (1886-1953), Julia May (1888-1946), Lucy Veronica (1890-946), Frank (1891-1915), Joseph Bernard (1894-1954), Catherine Venus (1896-1978), Norman John (1898-1957), Clare Philomena (1900-1967), Annie Teresa (1907-1930), Clarence Charles (1907-1908) and George Henry (1908-1927).
On 7 March 1928, he married Alice Mary WARD at St Paul's Methodist Church in Palmerston North, NZ.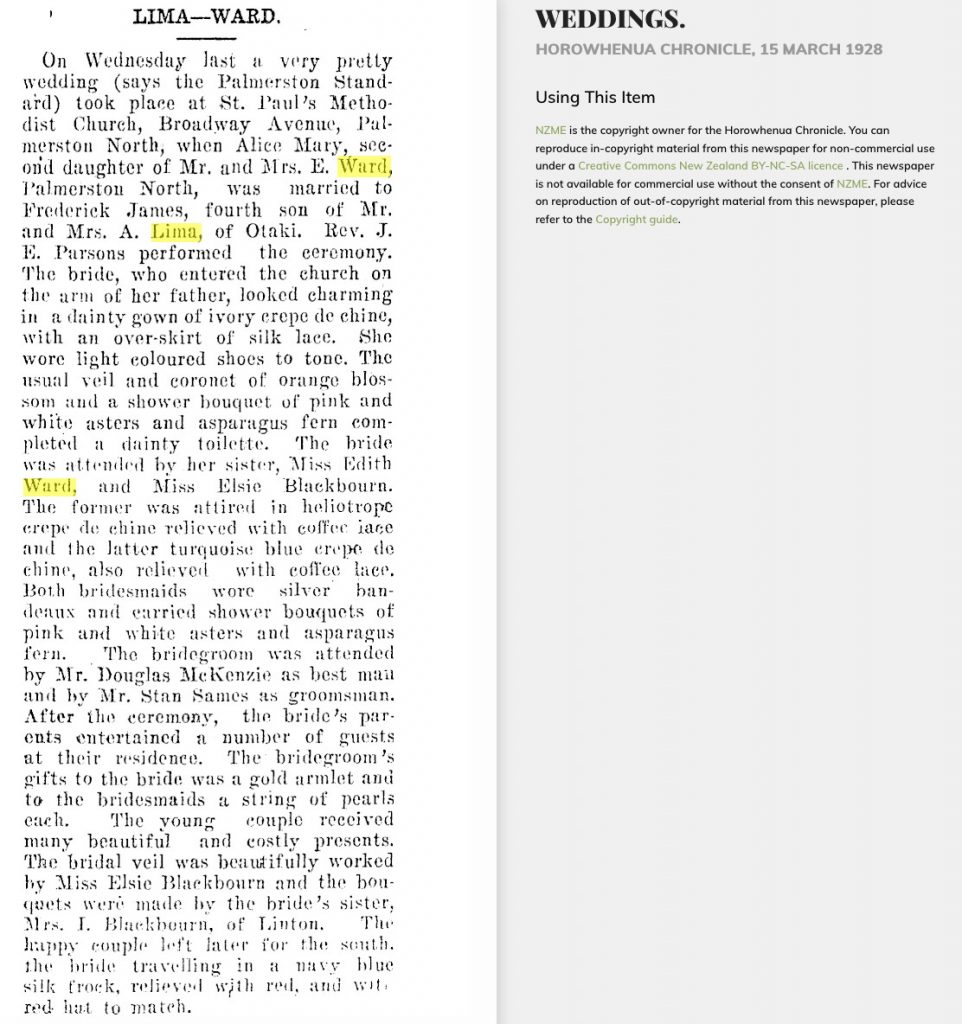 Alice Mary WARD was born 25 October 1906 in Palmerston North, Manawatu-Wanganui, NZ, to Edwin WARD & Annie Elizabeth Mary WALKER. She had seven siblings; Phoebe Ethel (1904-1970), Edith Annie (1908-1980), Mary Jane (1910-1985), George Edwin (1913-1961), Annie Catherine Harriet (1915-1975), Charlotte Emily (1918-1992) and Margaret Emily (1921-1994).
Fred and Alice continued to live in Palmerston North as they raised their four daughters, Nancy, Aileen Shirley Anne, Valerie Julia and Margaret Nita.
Alice passed away on 13 October 1960 in Palmerston North. Fred remarried in 1964 to Nellie Pulford, before passing away on 13 Jun 1971. Alice and Fred are both buried in Kelvin Grove Cemetery.