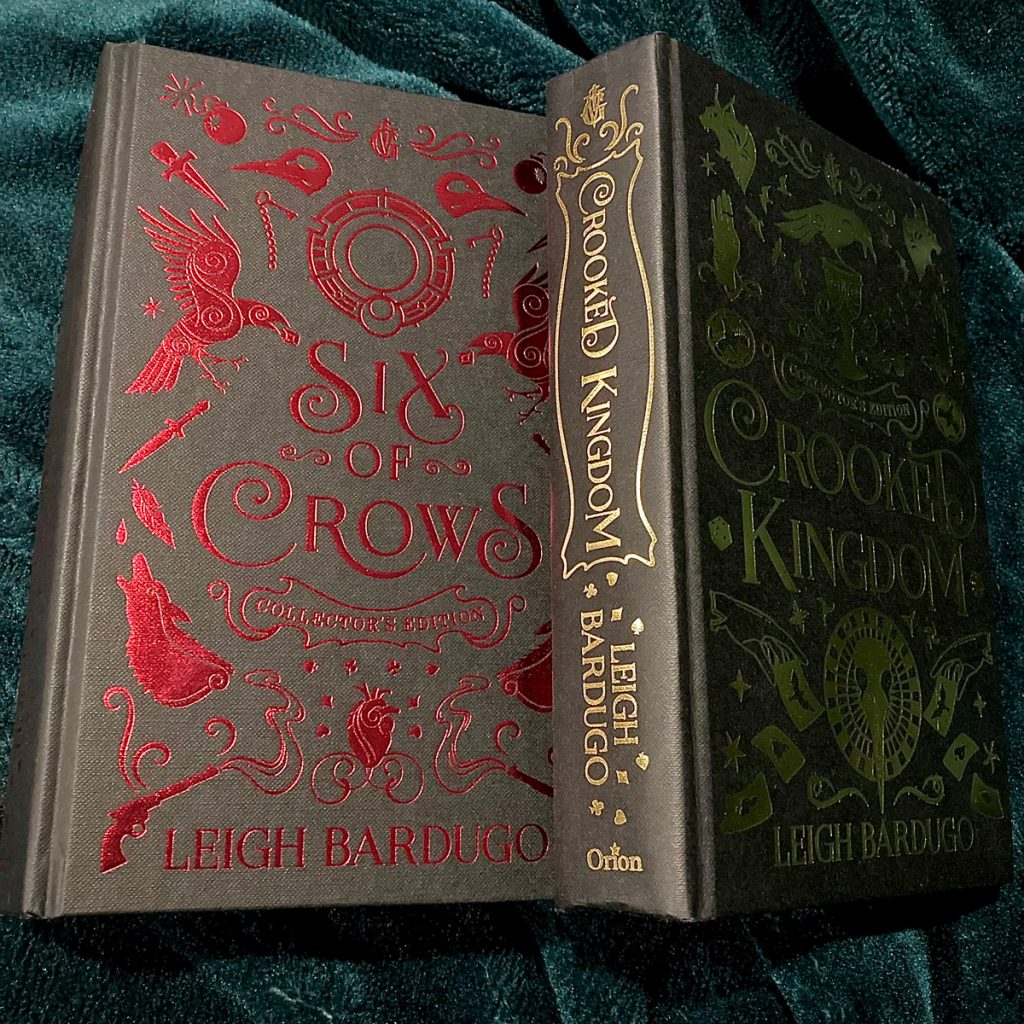 The release of the Shadow & Bone series on Netflix made me re-read Leigh Bardugo's trilogy, which I originally enjoyed back in 2014. I still like it it. It's a YA fantasy series, and the protagonist is a bit of a milksop, but I like the magic "small science" & the worldbuilding. Although, Russian speakers are apparently pissing themselves over the magic users being called Grisha – the baby name for Gregory. #gregverse
But more importantly, I finally read Six of Crows & Crooked Kingdom, a duology set in the same world after the events of the trilogy, featuring a gang of dodgy teens out to make their fortunes with a dangerous heist. Lots of betrayal, angst, hilarity, and shenanigans. So good! Can't believe I didn't finish it first time I picked up SoC. Now I just need to get the other duology, King of Scars & Rule of Wolves.
Most of my choices this quarter have been fantasy… or romance, interestingly. You see, I joined TikTok & there's a huge bookish community there, so I've had a lot more recommendations to trawl through. It's very useful for diversifying my "To Be Read" list, and I particularly like that there's a huge SFF following – I just don't know many SFF in real life, so it's awesome to have a safe space to nerd out.
Other notable mentions: The Priory of the Orange Tree, 848 pages of high fantasy featuring sapphic romance and dragons! So good! Sam Shannon is an A+ writer. Also, the Truthwitch series by Susan Dennard is hugely enjoyable. And the new murderbot novella was great fun, if too brief.
And yes, I read Ice Planet Barbarians – well, I listened to the audiobook from the library, actually. Not my fave smut, but entertaining enough.
April
Or What You Will by Jo Walton
Markswoman by Rati Mehrotra
The Rise and Fall of D.O.D.O. by Neal Stephenson & Nicole Galland
The Grey King by Susan Cooper
Silver on the Tree by Susan Cooper
Blink by Malcolm Gladwell
A Song of Wraiths and Ruin by Roseanne A. Brown
Polaris Rising by Jessie Mihalik
Chaos Reigning by Jessie Mihalik
Sorcery of Thorns by Margaret Rogerson
The Sinner's Club by Kate Pearce
The Soprano Sorceress by L.E. Modesitt Jr.
Hullmetal Girls by Emily Skrutskie
Throne of Glass by Sarah J. Maas
The Art of Taking It Easy by Brian King
The Iron King by Julie Kagawa
Winter's Passage by Julie Kagawa
The Iron Daughter by Julie Kagawa
The Iron Queen by Julie Kagawa
Summer's Crossing by Julie Kagawa
A Curse So Dark and Lonely by Brigid Kemmerer
Hooking Up by Helena Hunting
Getting Down by Helena Hunting
Shacking Up by Helena Hunting
Making Up by Helena Hunting
Handle With Care by Helena Hunting
The Priory of the Orange Tree by Samantha Shannon
Aurora Blazing by Jessie Mihalik
The Luminous Dead by Caitlin Starling
Truthwitch by Susan Dennard
Bridesmaid on a Budget by Sharon Naylor
We Have Always Lived in the Castle by Shirley Jackson
May
The Chain by Adrian McKinty
The Assassin's Blade by Sarah J. Maas
Bone Crier's Dawn by Kathryn Purdie
The Only Good Indians by Stephen Graham Jones
The Library of the Unwritten by A.J. Hackwith
A Heart So Fierce and Broken by Brigid Kemmerer
Crown of Midnight by Sarah J. Maas
A Court of Thorns and Roses by Sarah J. Maas
Fugitive Telemetry by Martha Wells
The Bone Season by Samantha Shannon
Heir of Fire by Sarah J. Maas
Owned by Fate by Tessa Bailey
Five Children and It by E. Nesbit
June
Siege and Storm by Leigh Bardugo
Ruin and Rising by Leigh Bardugo
See You in September by Charity Norman
The Secrets of Strangers by Charity Norman
The Space Between Worlds by Micaiah Johnson
The Archive of the Forgotten by A.J. Hackwith 
The Bone Season by Samantha Shannon
Windwitch by Susan Dennard 
Bloodwitch by Susan Dennard
Circe by Madeleine Miller
Go Set A Watchman by Harper Lee
Serpent & Dove by Shelby Mahurin
Blood & Honey by Shelby Mahurin
Furyborn by Claire Legrand
Verity by Colleen Hoover
Rush by Maya Banks
Six of Crows by Leigh Bardugo
Crooked Kingdom by Leigh Bardugo
Ice Planet Barbarians by Ruby Dixon
Cut Throat by Lyndon Stacey
The House in the Cerulean Sea by T.J. Klune 
Foxglove Summer by Ben Aaronovitch
Pegasus in Flight by Anne McCaffrey
Pegasus in Space by Anne McCaffrey
Flames of Chaos by Amelia Hutchins (DNF)
70 in total