After starting to scan the family photos in June, I have poked around a bit at the May-Bevin side of the family. I still haven't managed to get my hands on cousin Sharee Berry's book about the Bevin family but have asked around. It's called The Journey from Kent 1879: The Family History of Thomas Daniel Bevin & Mary Ann Fuller. Here's what I know of the Bevin (also occasionally spelled Bevan and Beavan) line.
Thomas Daniel Bevin was born in 1839 in Ightham, Kent, England to James & Sarah (née Cousins/Cussins) Bevin. He had seven siblings. Like his father, Thomas worked as agricultural labourer.
From 1861, the Bevin family lived on the same street as Samuel Levett, another agricultural labourer, and his second wife Emily (nee Fuller). Samuel & Emily had a daughter, born out of wedlock circa 1853 in Sittingbourne, named Mary Ann.
On July 15th 1871, Mary Ann Fuller and Thomas Daniel Bevin were married in the Ightham Parish Church.

Thomas and Mary Ann's first child was born on March 28th, 1872, but died a few days later. He was baptised Thomas Daniel (junior). A daughter, Ellen, was born a year later in 1873, followed by Harry on July 18 1875, then another son, Frank, in 1877 and another daughter, Sarah Ann, in 1878.
On the 15th of Feb 1879, the family boarded the "Stad Haarlem", bound for NZ from Plymouth in Devon. The ship made port in Lyttelton on April 14th.
Thomas & Mary Ann had two more children in NZ: Daisy, born 1880 in Palmerston, Otago, and Horace, born and died in 1882 in Dunedin. Devastatingly, Thomas passed away the same year, on November 3rd, aged only 43.
Mary Ann remarried in 1886 in Dunedin, to Austin William Holbrook, another English immigrant, with whom she had a further four children, although only two survived infancy.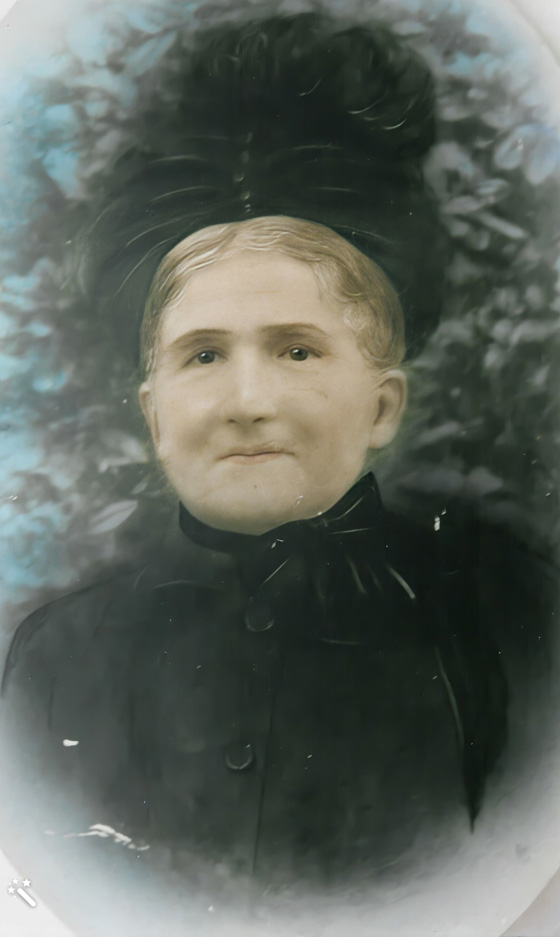 Mary Ann died on 29th October 1918 after suffering from acute bronchitis for over a week, resulting in heart failure. The image above is a portrait of Mary Ann owned by Sharee Berry.
I uploaded some newspaper clippings that I found in our family photo box to a Whanganui history Facebook group, and was subsequently contacted by a cousin, Paul Bevin, the son of James Simpson Bevin. Paul has been helping me identify some of the photos, and clarified the names of Harry Bevin's children.
As mentioned above, Harry Bevin was born in 1875, in Malling, Kent. After his family emigrated to New Zealand, he met and married Bridget Mena Crawford in 1900 in Invercargill. They had two sons: Thomas Henry James, a.k.a. Harry Junior, born in 1901, and Francis Crawford, a.k.a. Frank, born in 1904.
Bridget died giving birth to Frank, and in 1906, Harry remarried: this time to my great-great-grandmother, Elizabeth Ann Tansley, on June 27th in Winton.
Elizabeth had been born on January 28th, 1882, in Tokomairiro, now known as Milton, to Henry Edward & Mary Ann (nee Tough) Tansley. She had three brothers & three sisters, one of whom she may have been living with in Winton in 1905/6.
Elizabeth & Harry's first child was Mavis Mary, born in 1907 in Winton. Mavis died shortly before her 14th birthday, and her funeral card is in the family photo box. My great-grandmother Doreen Alice was the second-born, on September 14 1908 in Westport. Ivan Arthur followed in 1910 in Granity, a small mining town near Westport, then Edward Roland in 1913, James Simpson in 1915, and Leoni Mabel in 1917.
Some time between 1928 & 1935, Harry & Elizabeth moved to Whanganui, as did Doreen & Bill May after their wedding on 7 February 1929, and the birth of their daughter Bronwen in November that year. In 1935, Frank was in Otago and Ivan in Wellington, but Harry Jr, Edward, Jim and Mabel all moved to Whanganui too. I'd love to know when & why they all moved!
Harry was a baker, but that's all I know about his occupation. He was also a talented musician, a cornet player. He died on May 15th, 1946 of a stomach carcinoma. Elizabeth died June 12th, 1952.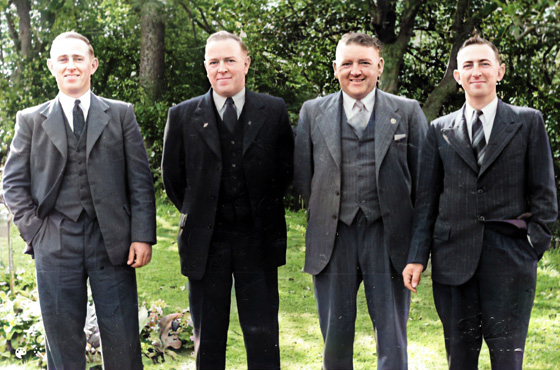 I colourised the above photos using MyHeritage's Enhance & Colorize tool because I think it makes them spring to life!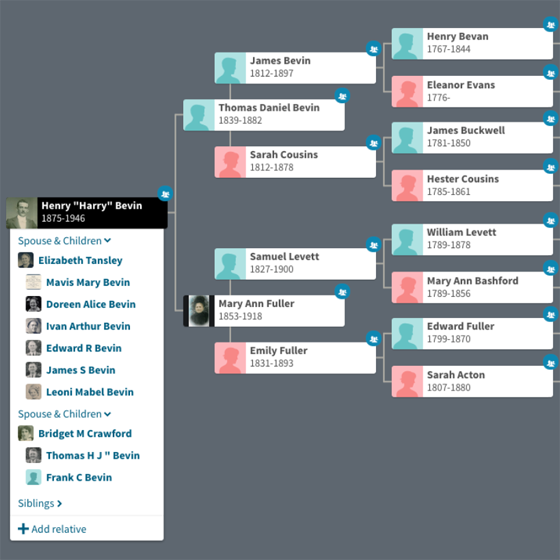 I've also been looking into the May lines of our tree, and found the will of my great-great-grandfather, Samuel May, in Archives NZ. Reading it gave me a surprise! He left his estate divided equally between his son, William James May, and his foster son, Arnold Cox. Some digging has revealed that Arnold was the nephew of Samuel through his wife Sarah (nee Probert).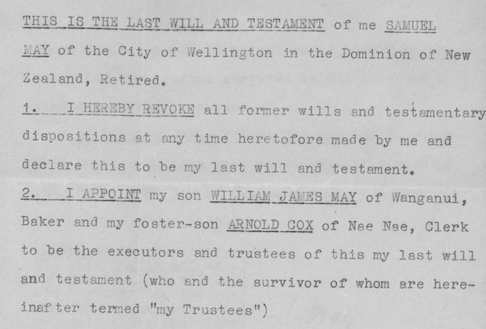 Arnold was born in Wales to Nellie (Probert) and Alexander Cox in 1915. His father was killed 10 months later in France during WWII. In 1922, seven year old Arnold was put on a ship alone, bound for Wellington, where Sam & Sarah took him in. He seems to have done pretty well, working as a clerk, then manager, then storekeeper in various places around NZ. He was married in 1939, and then divorced in 1974. Arnold died in 1997. I wonder how much he kept in touch with the family?
Speaking of the Proberts, I want to share a sweet story that I heard from cousin Sue Thomas. She says that Sarah's parents had an epic love story. Her mother, Martha Ann Davies, came from a wealthy farming family in Montgomery, Wales, and hired as a gardener one James Probert. Martha was three years older than James, but they fell in love, and her family were horrified, so the young couple eloped in 1884 to get married, and then moved to Glamorgan because there was plenty of work in the mines for James to support a family. They went on to have five children; William James, Sarah Elizabeth, Mary Jane, Nellie, and Margaretta May.
The last couple of updates are in regards to my Dunbar lines. Cousin John Dunbar sent me records for my great-aunt Norah – it includes her father Robert's handwritten application to have her admitted to a psychiatric hospital as well as her admission & medical notes. Interesting, if sad reading. It's a hard image to shake: two months after the death of her mother, six year old Norah is sent to Tokanui Psychiatric Hospital, and she dies five years later from tuberculosis and is buried in a mass grave at the hospital. I can't help but wonder how much her siblings knew! Even with Hannah Ferguson living with them, and Peggy & Nancy being aged 14 & 12 or so, Robert still decided Norah was too hard to look after, as is made clear in the file.
Speaking of Robert Dunbar, I've poked around at the Dunbar line again but can't seem to trace it back much further than I've got:
David Dunbar (about 1775-about 1851) married Alison Mill or Milne (1773-1841)

John Dunbar (1812-1866) m. Mary Paterson (1804-1878)

David Dunbar (1841-1874) m. Isabella Flockhart (1848-1928)

John Dunbar (1869-1933) m. Victoria Elsie Lawrence (1868-1936)

Robert Walter Marshall Dunbar (1896-1971) m. Hilda May Ferguson (1896-1937)
I suspect that the David at the top of that list was born in 1777 in Glamis, Angus, Scotland but I can't quite prove it (yet). David was a crofter, or farmer of a small steading owned by someone else. He appears in the 1841 Scotland Census in Menmuir, Angus, as an Ag. Lab. (or, agricultural labourer), aged 66. David and Alison had 10 children in total, as far as I can find, and my direct ancestor, John, was his second born but first son.
Unfortunately, I don't yet know enough about early Scottish resources other than the usual births, marriages & deaths records (these are taken from Church registers up until 1855 when civil registration became a thing). Ideally, I'd like to do a Y-DNA test on a Dunbar male so that I can try & trace the line, but they're frickin' expensive tests, so hard to justify. Cousin Ian has a Dunbar tree that suggests a different wife for David, but I'm not sold on his hypothesis, so for now, I've filed this as a brickwall.