The parents of my great-grandfather, William ALLEN, were William Henry ALLEN and Eliza NOTLEN.
William Henry ALLEN was born 9 February 1866 in Dunedin, Otago, NZ, to Robert ALLEN & Alice WILLIAMS. He had two siblings: Margaret (1861-1941) & Janet Alice (1863-1951). Initially, he practiced his father's trade as a bootmaker, but went on to work as a carrier, starting his own transport business, incorporating as W H Allen Ltd in 1941.
On 17 July 1894, he married Eliza NOTLEN at her home in Kensington, Dunedin.
Eliza NOTLEN was born 24 January 1869 in Dunedin, Otago, NZ, to James NOTLEN & Eliza HUGHES. She had seven siblings: John James (1857-1859), Thomas James (1860-1860), Esther Margaret (1861-1930), Rosetta Anne (1864-1887), Clara Matilda (1865-1952), Hugh (1867-1911) and Walter (1871-1883).
William Henry & Eliza had two sons born in Dunedin, William and Oswald, and a daughter, Eva Alice, before the family moved to Wellington about 1905. A third son, Raymond, was born several years later.
William died 1st December 1945 in Wellington Hospital, after suffering from pneumonia for three weeks. He had a weakened heart that could not withstand the stress. Eliza died 17 April 1958 in Karori.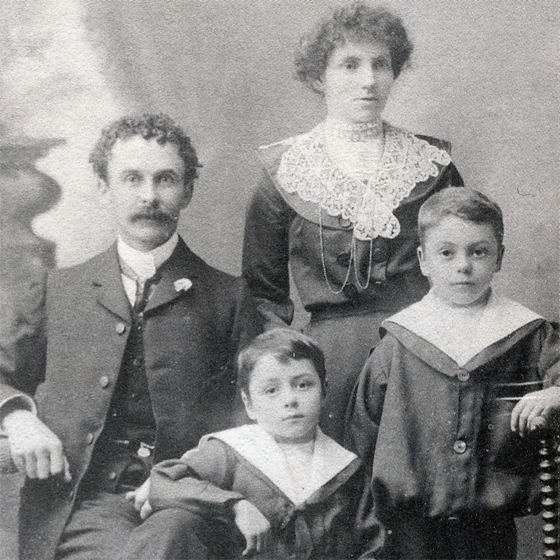 Children's Details
William ALLEN
Born 31 Jan 1895, Dunedin, OTG, NZ
Married 26 Dec 1921, Wellington, NZ to Jessie May SMART
Died 23 Jun 1977, Takapuna, AKD, NZ
Oswald ALLEN
Born 8 Mar 1896, Dunedin, OTG, NZ
Married 1917, NZ to Ethel Maude Walker LOWE
Divorced 1954, Wellington, NZ from E. M. W. LOWE
Married ~1955, Wellington, NZ to Aileen Gordon REED
Died 26 Jul 1980, Havelock North, HBY, NZ
Eva Alice ALLEN
Born 8 Apr 1904, Dunedin, OTG, NZ
Died 31 Aug 1927, Karori, WTN, NZ
Raymond ALLEN
Born 27 Oct 1908, Christchurch, CBY, NZ
Married 1939, Wellington, NZ to Fanny GLAZER
Died 2 Aug 1979, Wellington, NZ