The parents of my great-grandmother, Alice Mary WARD, were Edwin WARD and Annie Elizabeth Mary WALKER.
Edwin WARD was born 1 January 1865 in Eynsham, Oxfordshire, England, to Luke WARD & Harriet HARPER. He had eight siblings: Harriet (1863-1950), Jesse (1867-1867), Emily (1870-1941), Luke (1874-1959), Henry William (1878-1919), George Henry (1879-1937), Catherine (1881-1953) and Thomas John (1884-1965).
In 1873, Edwin & his family boarded a ship, the Woodlark, to New Zealand, landing in Wellington on 24 March 1874. They initially settled in Feilding, before moving to Palmerston North.
It was here that Edwin married Annie WALKER on 22 April 1903, at his father's house in Fitzherbert Street.
Annie Elizabeth Mary WALKER was born 12 July 1878 in Waikanae on the Kapiti Coast, Wellington, NZ, to John Henry WALKER & Mary Irene Alice OAKFORD. She had eight siblings: James Henry (1874-1942), George Edwin William (1876-1965), Sarah Jane (1880-1956), Florence Amelia (1882-1959), Charlotte Emily (1884-1972), Alice Rebecca (1887-1960), Mary Ann (1892-1963) and Alexander Leonard (1901-1981).
Annie & Edwin, known as Ted, had eight children of their own, of which my great-grandmother Alice was the second-born. In November 1906, Ted, a labourer, declared himself bankrupt, due to having been ill for the past 4.5 years, through hard work & heavy lifting as well as a lot of family illnesses, and so had been unable to get regular work. They moved to Pahiatua in late 1906 or early 1907, where Ted continued to work as a labourer, before returning to Palmerston North around 1916.
Ted died 16 May 1939 and Annie on 19 October 1959, both in Palmerston North, where they are buried in Terrace End Cemetery.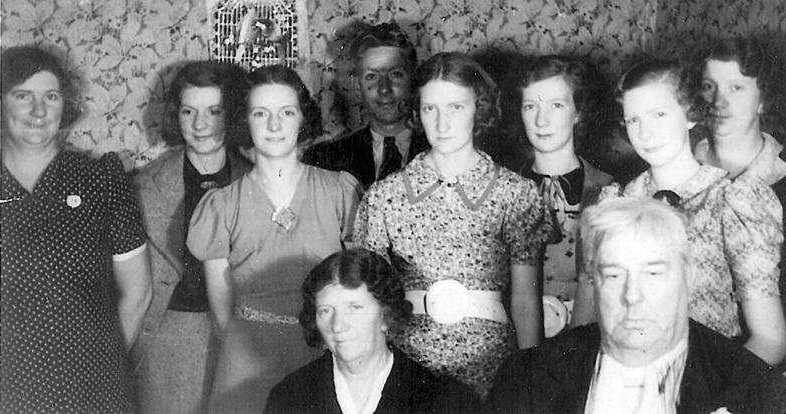 Children's Details
Phoebe Ethel WARD
Born 3 Sep 1904, Pahiatua, WRP, NZ
Married 16 Sep 1925, Palmerston North, MWT, NZ to Ivan Ernest BLACKBOURN
Died 10 Aug 1970, Palmerston North, MWT, NZ
Alice Mary WARD
Born 25 Oct 1906, Palmerston North, MWT, NZ
Married 7 Mar 1928, Palmerston North, MWT, NZ to Frederick James LIMA
Died 13 Oct 1960, Palmerston North, MWT, NZ
Edith Annie WARD
Born 18 Mar 1908, Pahiatua, WRP, NZ
Married 31 Jul 1929, Palmerston North, MWT, NZ to Hugh Douglas MACKENZIE
Died 28 Nov 1980, Palmerston North, MWT, NZ
Mary Jane WARD
Born 29 Jun 1910, Pahiatua, WRP, NZ
Married 1934, Palmerston North, MWT, NZ to Donald Alfred Charles LLOYD
Died 18 Feb 1985, Palmerston North, MWT, NZ
George Edwin WARD
Born 25 Oct 1913, Pahiatua, WRP, NZ
Married 1 Dec 1936, Palmerston North, MWT, NZ to Joyce Eileen CARTER
Died 15 Mar 1961, Palmerston North, MWT, NZ
Annie Catherine Harriet WARD
Born 28 Mar 1915, Pahiatua, WRP, NZ
Married 1933, NZ to Leslie James PEDERSEN
Died 2 Jun 1975, Palmerston North, MWT, NZ
Charlotte Emily WARD
Born 23 Jan 1918, Palmerston North, MWT, NZ
Married 8 Jun 1938, NZ to Roy Herman James HERMANSSON
Died 30 Mar 1992, Palmerston North, MWT, NZ
Margaret Emily WARD
Born 11 Dec 1921, Palmerston North, MWT, NZ
Married 21 Aug 1942, Palmerston North, MWT, NZ to Ronald Frederick GASKIN
Died 25 Oct 1993, Palmerston North, MWT, NZ