The parents of my great-grandfather, Robert Walter Marshall DUNBAR, were John DUNBAR and Victoria Elsie LAWRENCE.
John DUNBAR was born 22 November 1869 in Edinburgh, Midlothian, Scotland, to David DUNBAR & Isabella FLOCKHART. He was an only child, as his father was a commercial traveller who died when John was only five years old.

John was a smart youth, who became an analytical chemist as an adult. In the 1891 Scotland Census, he was living in the parish of Kingussie & Insh, Inverness, but by 1895 he had moved to Clifton, in Bristol, England.
On 13 August 1895, he married Victoria Elsie LAWRENCE at the Stoke Bishop Parish Church in the north-west of Bristol, with Christopher J. M. LAWRENCE & his future wife Grace M. A. JENKINS as witnesses.
Victoria Elsie LAWRENCE was born 10 December 1868 in Clifton, Bristol, England, to Jacob LAWRENCE & Elizabeth MARSHALL. She had four siblings: Walter William (1856-1917), Arthur (1858-1936), Charlotte Alice (1865-?) and Christopher Jacob Marshall (1873-1942).
After their marriage, John & Elsie (as Victoria was sometimes known) moved around – their first child, my great-grandfather Robert, was born in Barry Dock, Glamorgan Wales in 1896, and their second child, Duncan, was born in London in 1898. But by 1901, they were back in Clifton in Bristol, and their third child, Kenneth, was born here in 1902.
But John & Elsie's marriage was breaking down. In 1911, John was living in Cardiff with their youngest son, working as a commercial traveller, while Elsie was living at her sister's house in Bristol.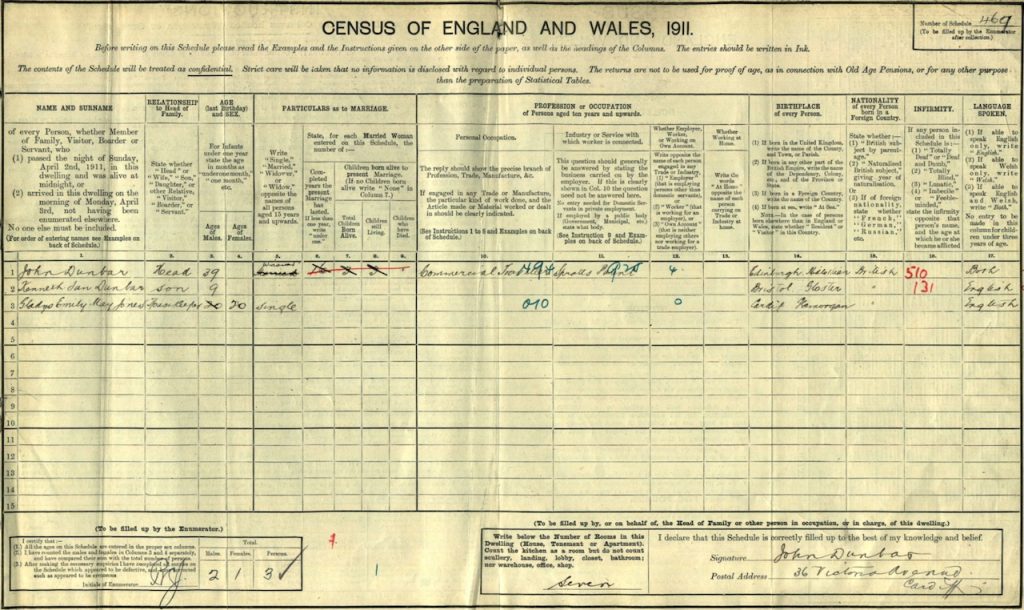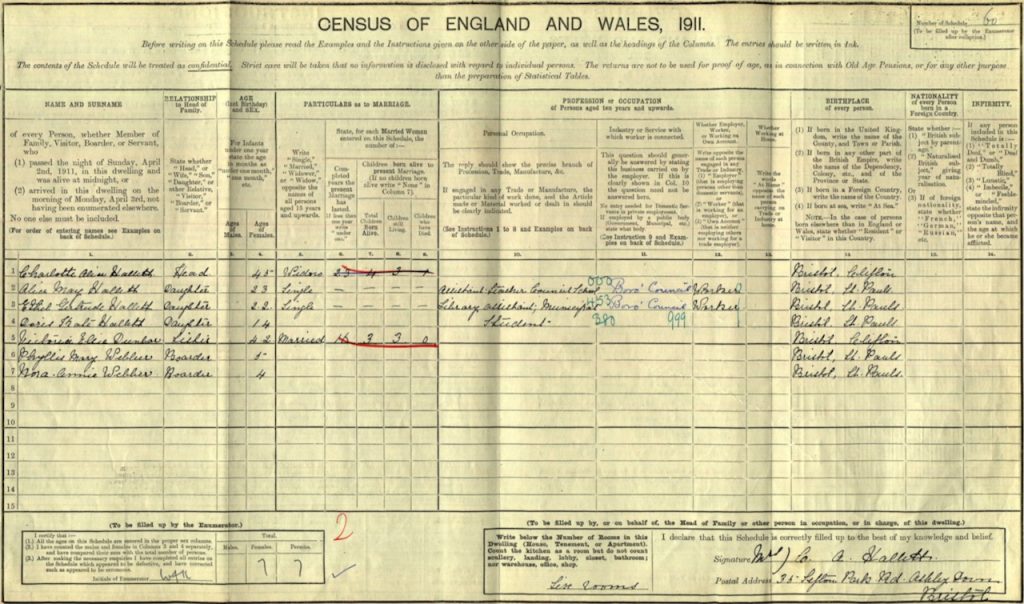 In 1931, Elsie boarded a ship to Canada to visit her brother's family who were living in Ontario. The visit was just a first stop on her journey – she was emigrating to New Zealand, where her two eldest sons now lived. She arrived in Auckland on 27 December 1931 aboard the Aorangi out of Vancouver.
Meanwhile, John had made a migration of his own, sometime after 1919, to Norfolk Island. Apparently he there bigamously married his housekeeper, a woman named Evelyn Persia KENDALL, on 12 January 1933. John died only a few months later on 17 March 1933, of heart failure, and is buried in Kingston Cemetery. After his death, his Will revealed his first marriage, which was apparently unknown to his second wife, who fled Norfolk Island in shame.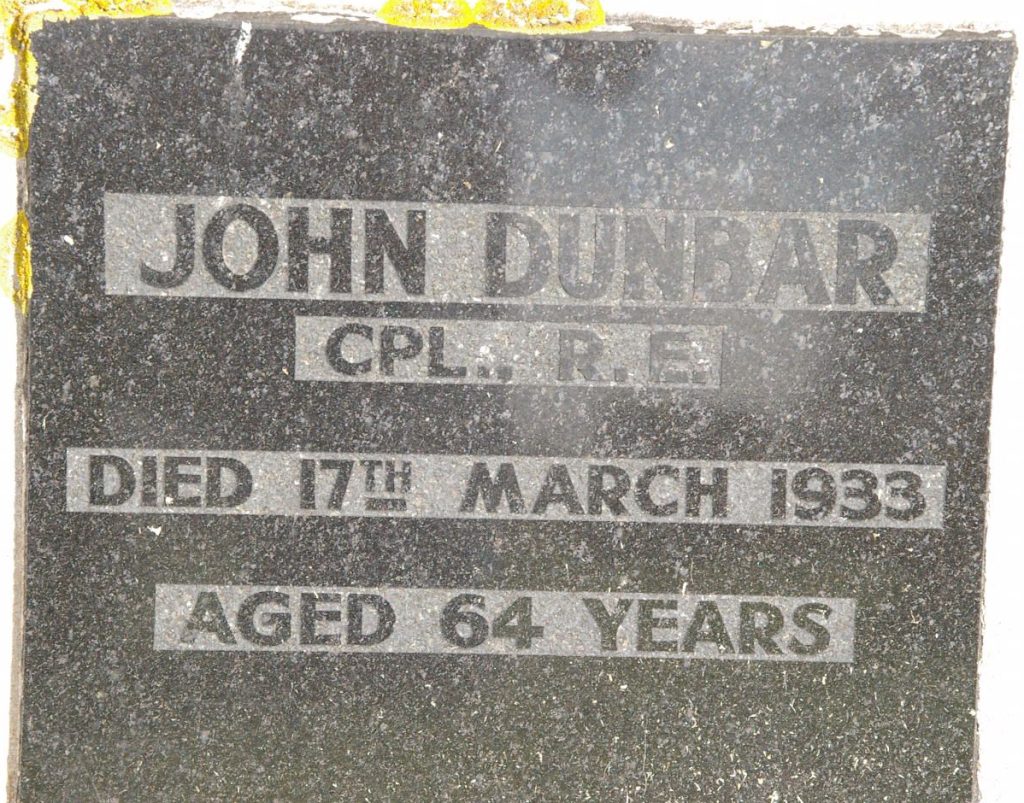 After settling in NZ, Elsie regularly visited her son Kenneth in Sydney, Australia until his untimely death in 1933. Elsie died on 8 September 1936 in Epsom, Auckland, NZ, and her ashes were scattered in the eucalyptus grove in Waikumete Cemetery.
Children's Details
Robert Walter Marshall DUNBAR
Born 10 Mar 1896, Barry Dock, GLA, WLS
Married 24 May 1921, Rotorua, BOP, NZ to Hilda May FERGUSON
Married 1942, Auckland, NZ to Mary Ethel BERRY
Divorced 1949, Auckland, NZ from M.E. BERRY
Married 1950 Oxford, OXF, ENG to Marguerite CARMICHAEL (née KING)
Died 18 Jan 1971, Rotorua, BOP, NZ
Duncan Keith DUNBAR
Born 21 Oct 1898, Sydenham, LDN, ENG
Married 1925, NZ to Dulcie Rosa Louisa HOWELL (née MARMONT)
Divorced 1932, NZ from D. R. L. HOWELL
Married 1937, NZ to Athol Grace MILLARD
Died 5 Jul 1973, Cambridge, WKT, NZ
Kenneth Ian DUNBAR
Baptised 18 May 1902, Bristol, GLS, ENG
Married 1930, London, ENG to Ann Pearl EVERETT
Divorced 1933, Sydney, NSW, AUS from A. P. EVERETT
Died 6 Jul 1933, Sydney, NSW, AUS