The parents of my 2x great-grandmother, Hannah Sarah RUTHERFORD, were Peter RUTHERFORD and Sarah OUTRAM.
Peter Rutherford was born 30 May 1847 in Bothkennar, Stirlingshire, Scotland, to John RUTHERFORD & Jean DUNLOP. He had eleven siblings: Elizabeth Halley (1839-1910), Thomas (1841-1861), Catherine Reid (1843-1928), John (1849-1866), Jane (1851-1931), James (1853-1933), Robert (1855-1942), Agnes (1857-1916), George Mackay (1860-1895), Margaret Dunlop (1861-1943), and Thomas (1864-1944).
Peter worked as a farm servant, according to the 1861 Scotland Census, before emigrating to New Zealand in 1868.
On 25 May 1874, he married Sarah OUTRAM, at the home of her father in Dunedin, Otago, NZ.
Sarah Outram was born 23 January 1852 in Bradford, Yorkshire, England, to John OUTRAM & Betsy RUSHWORTH. She was the eldest of nine children, and her siblings were: William (1854-1864), Albert (1856-1914), Joseph (1859-1920), James (1861-1939), Hannah (1864-1900), Mary Ann (1866-1937), John (1869-1951), and Ada (1871-1872).
Her family arrived in Port Chalmers, NZ, on 5 May 1858 aboard the Nourmahal out of London. The Outrams settled in Royal Terrace, Dunedin.
Peter Rutherford was a grocer whose shop in Caversham became a local landmark. In 1896, he moved the family to their farm, "Newton Grange", on Inch Clutha near Kaitangata. Peter died on 20 September 1911 at his farm. Sarah returned to Dunedin, where she died on 23 March 1920. Both are buried in the Southern Cemetery in Dunedin.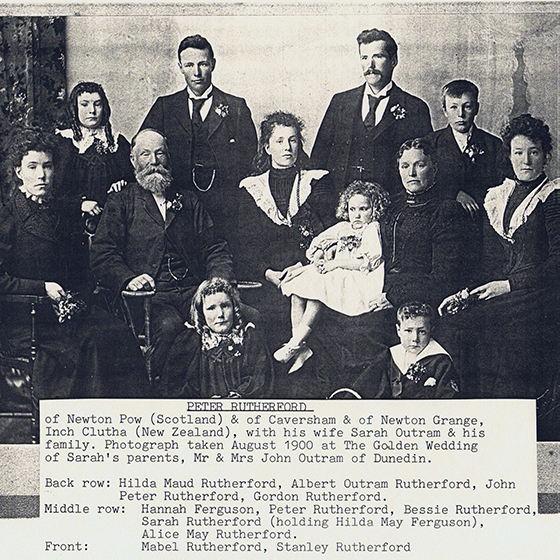 Children's Details
Hannah Sarah RUTHERFORD
Born 31 Jan 1876, Dunedin, OTG, NZ
Married 12 Feb 1896, Waitati, OTG, NZ, to Thomas FERGUSON
Died 17 Oct 1946, Rotorua, BOP, NZ
John Peter RUTHERFORD
Born 18 May 1877, Dunedin, OTG, NZ
Married 4 Jun 1901, Tokoiti, OTG, NZ, to Jane MCEWEN
Died 6 Apr 1939, Balclutha, OTG, NZ
Jean Dunlop RUTHERFORD
Born 13 Dec 1878, Dunedin, OTG, NZ
Died 6 Dec 1879, Dunedin, OTG, NZ
Albert Outram RUTHERFORD
Born 20 Nov 1880, Dunedin, OTG, NZ
Married 10 Feb 1909, Balclutha, OTG, NZ, to Elizabeth Jane Middleton MCDONALD
Died 1 Aug 1945, Kaitangata, OTG, NZ
Alice May RUTHERFORD
Born 9 Jan 1882, Dunedin, OTG, NZ
Married 22 Sep 1904, NZ, to Alexander RENTON
Died 1 Sep 1967, Dunedin, OTG, NZ
Bessie RUTHERFORD
Born 27 May 1884, Waitati, OTG, NZ
Died 12 Mar 1960, Waitati, OTG, NZ
Gordon RUTHERFORD
Born 3 Mar 1887, Dunedin, OTG, NZ
Married 1912, NZ, to Catherine Mary FAIRBAIRN
Died 5 Apr 1920, Inch Clutha, OTG, NZ
Hilda Maud RUTHERFORD
Born 24 Dec 1888, Dunedin, OTG, NZ
Married 1907, Dunedin, OTG, NZ, to Samuel John GILBERT
Died 25 Jun 1982, Dunedin, OTG, NZ
Mabel RUTHERFORD
Born 15 Apr 1891, Dunedin, OTG, NZ
Married 1913, NZ, to Gilbert STORER
Died 15 Aug 1946, Kaiapoi, CBY, NZ
Stanley RUTHERFORD
Born 7 Sep 1894, Dunedin, OTG, NZ
Died 6 Apr 1918, France