The parents of my great-grandmother, Doreen Alice BEVIN, were Henry BEVIN & Elizabeth Ann TANSLEY.
Henry "Harry" BEVIN was born 18 July 1875 near Ightham in Malling, Kent, England to Thomas Daniel BEVIN & Mary Ann FULLER. He was baptised on 8 August 1875 at St Mary's Church, Platt, in Malling, Kent. He had six siblings: Thomas Daniel Jnr (1872-1872), Ellen (1873-1965), Frank (1877-1951), Sarah Ann (1878-1960), Daisy (1880-1927) and Horace (1882-1882).
When he was only three years old, his family migrated to New Zealand, arriving in Lyttleton, Canterbury aboard the Stad Haarlem on 14 April 1879.
He married for the first time in 1900, to Bridget Mina CRAWFORD, with whom he had two sons: Thomas Henry James, known as Harry Junior, and Francis Crawford. Sadly, Mina died in 1904, and two years later Harry remarried – this time to Elizabeth Ann TANSLEY, on 26 June 1906, in Winton, Southland, NZ.
Elizabeth Ann TANSLEY was born 28 January 1882 in Milton, Otago, NZ, to Henry Edward TANSLEY & Mary Ann TOUGH. She had six siblings: Edward William (1871-1920), Henry James (1872-1946), Arthur John (1874-1963), Mary Ellen (1876-1957), Rebecca Lucy (1878-1966) and Flora Alice (1884-1936).
Harry worked as a baker first in Winton, then in Ngakawau in Buller when his family moved there. Elizabeth lived in nearby Granity, raising their five children, until the 1920s when the family moved to Millerton. Harry was also a musician, a cornet player who played in the local orchestra & bands.
Some time before 1935, Harry, Elizabeth & son Edward moved to 20 Tawa Street, Wanganui. Harry died on 15 May 1946, and Elizabeth on 12 Jun 1952. Both were cremated, with a memorial in Aramoho Cemetery, Wanganui.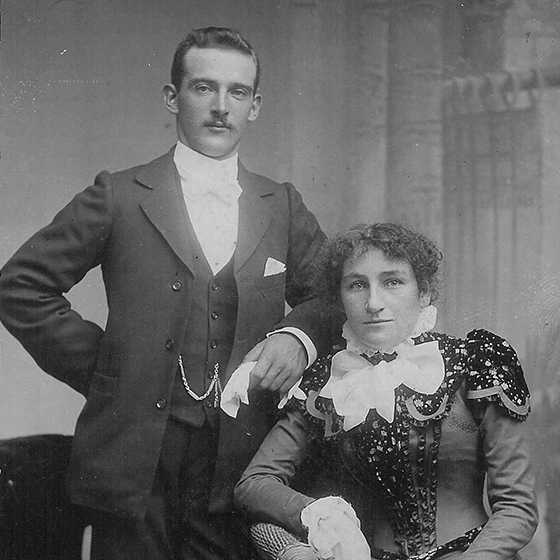 Children's Details
Thomas Henry James BEVIN
Born 17 Jan 1901, Winton, SLD, NZ
Married between 1938-1946, Wanganui, MWT, NZ to Sybil Florence AMON
Died 18 Jun 1960, Wanganui, MWT, NZ
Francis Crawford BEVIN
Born 7 Mar 1904, Dunedin, OTG, NZ
Married 1930, Dunedin, OTG, NZ, to Annie Amy RITCHIE
Died 25 Mar 1967, Dunedin, OTG, NZ
Mavis Mary BEVIN
Born 2 May 1907, Westport, Buller, NZ
Died 16 Apr 1921, Westport, Buller, NZ
Doreen Alice BEVIN
Born 14 Sep 1908, Westport, Buller, NZ
Married 7 Feb 1929, Millerton, Buller, NZ to William James MAY
Died 21 Jul 1982, Wanganui, MWT, NZ
Ivan Arthur BEVIN
Born 1910 Granity, Buller, NZ
Married between 1936-1946, Wellington, NZ to Cissie Priscilla Queenie (LINE) MUNRO
Died 26 Jul 1960, Karori, WTN, NZ
Edward Roland BEVIN
Born 1913 Granity, Buller, NZ
Married 1940, Northland, NZ to Kathleen Mary Rita BERNARD
Died 23 Mar 1958, Auckland, NZ
James Simpson BEVIN
Born 30 May 1915, Granity, Buller, NZ
Married 1936, Wanganui, MWT, NZ to Gwenneth Ellen BERTHOLD
Died 30 Nov 2003, NZ
Leoni Mabel BEVIN
Born 24 Jul 1917, Granity, Buller, NZ
Married 14 Oct 1939, Wanganui, MWT, NZ to George Edmund SWAIN
Died 10 Dec 2001, Wanganui, MWT, NZ