The parents of my great-grandmother, Hilda May FERGUSON, were Thomas FERGUSON and Hannah Sarah RUTHERFORD.
Thomas Ferguson was born 1 August 1872 in Waitati near Dunedin, Otago, NZ, to Kennedy Brown FERGUSON & Emma DOWNES. He had thirteen siblings, ten of which survived to adulthood: Jane Downes (1870-1930), Thomas (1871-1872), Mary Brown (1874-1933), Emma Downes (1876-1937), David Kennedy (1877-1940), Edward Downes (1880-1901), Robert (1882-1962), Elizabeth Margaret (1883-1883), Joan (1884-1962), Kennedy Brown (1887-1952), James Graham (1890-1891), William Murray (1892-1918) and John Robert (1893-1917).
Thomas attended Blueskin School in Waitati, and afterwards worked as a labourer in Dunedin, living in the suburb of Rothesay (now included in Ravensbourne). He returned to Waitati to work the family farm after the death of his father a couple of days after Christmas 1895.
Thomas married Hannah Sarah RUTHERFORD, on 12 February 1896 in Waitati at her parent's house.
Hannah Sarah RUTHERFORD was born 31 January 1876 in Dunedin, Otago, NZ, to Peter RUTHERFORD & Sarah OUTRAM. The RUTHERFORDS were well known in Caversham, where Peter owned one of the area's first grocery stores. Hannah had nine siblings: John Peter (1877-1939), Jean Dunlop (1878-1879), Albert Outram (1880-1945), Alice May (1882-1967), Bessie (1884-1960), Gordon (1887-1920), Hilda Maud (1888-1982), Mabel (1891-1946) and Stanley (1894-1918).
On 5 September, Hannah gave birth to a daughter, Hilda May, at her family's farm in Inch Clutha. Tragically, Thomas died the following year, on 20 February 1897, from tuberculous meningitis, and was buried in his family lot at Waitati Cemetery. Hannah never remarried, and so Hilda remained an only child.
In 1928, Hannah left Dunedin for Rotorua, where her daughter Hilda was living with her husband, and she remained there until her death on 17 October 1946.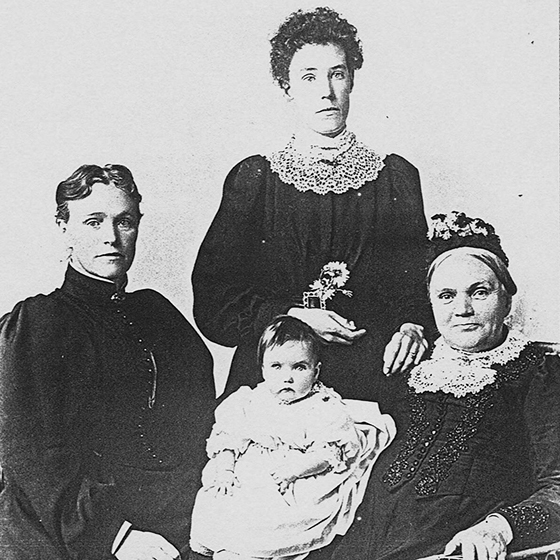 Children's Details
Hilda May FERGUSON
Born 5 Sep 1896, Inch Clutha, OTG, NZ
Married 24 May 1921, Rotorua, BOP, NZ to Robert Walter Marshall DUNBAR
Died 2 Apr 1937, Rotorua, BOP, NZ