My 4x great-grandfather John William Outram was born on January 3rd, 1831 in Leicester, England, to John and Hannah (née East) Outram. He worked as a wool comber in the woollen mills in Bradford, Yorkshire, and on August 24th, 1850, married Betsy Rushworth, daughter of Michael and Sarah (née Sugden) Rushworth. Betsy also worked at the mills, as a weaver. They lived just south-west of Bradford city in Horton.
Neither John or Betsy had been educated, so John went to night school to learn to read and write. John later joined the Police force in Bradford. While in England, the couple had three children: Sarah in 1852, William in 1854, and Albert in 1856.
On 5 May 1858, John and Betsy left from London, England with their three children on the "NOURMAHAL" and several months later arrived at Port Chalmers, Dunedin, in New Zealand.
The land on either side of the harbour was clothed with bush to the water's edge, and Betsy, looking round her from side to side and beholding nothing but beautiful virgin bush, asked her husband, "Where is Dunedin?"
They had their first meal in the Immigration Barracks on bread and water – a true prison diet, obtained without much difficulty. Not so easy was finding their sleeping accommodation. It almost seemed that they would have to sleep in the "lock- up", but at last a place was found for them.
For the first few months in Otago, John found casual work in the bush and elsewhere, until 1859 when he joined the police force. When the gold rush began in 1861 he was stationed at Gabriel's Gully, in charge of the area; in conjunction with Commissioner Strode & T.W. Parker he issued the first batch of miner's rights granted in Otago. A few months later, however, he returned to Dunedin and resigned, with the rank of First Class Sergeant.
After a short spell of store-keeping on the goldfields, in 1862 he joined the gaol staff in Dunedin and became the Chief Overseer of Public Works done by prison labour, including the erection of the first bridge over the Anderson's Bay Inlet. He supervised the prison gangs during the removal of Bell Hill, winning commendation from the Otago Daily Times on more than one occasion for having carried out his duties with such meticulous care and foresight that in all the 14 years of blasting & excavating, not one serious accident had occurred.
Unfortunately in 1878, while on duty, he himself suffered an accident which resulted in the loss of an eye. As a result of this mishap he retired on a pension of 188 pounds ($576) per year, with the rank of Sergeant, an efficient & highly respected officer.
In November 1859 he brought from the Crown Section 44, 45 & 46 of Block XIX, Dunedin. Selling two sections of these in 1875, he retained 46, on which his home had been built, and which became 64 Royal Terrace. This remained the home of the couple and their family throughout John's working life & his retirement, and it was here that in August 1900 they celebrated their Golden Wedding in the company of 30 of their family, including 19 grandchildren and one great-grandchild.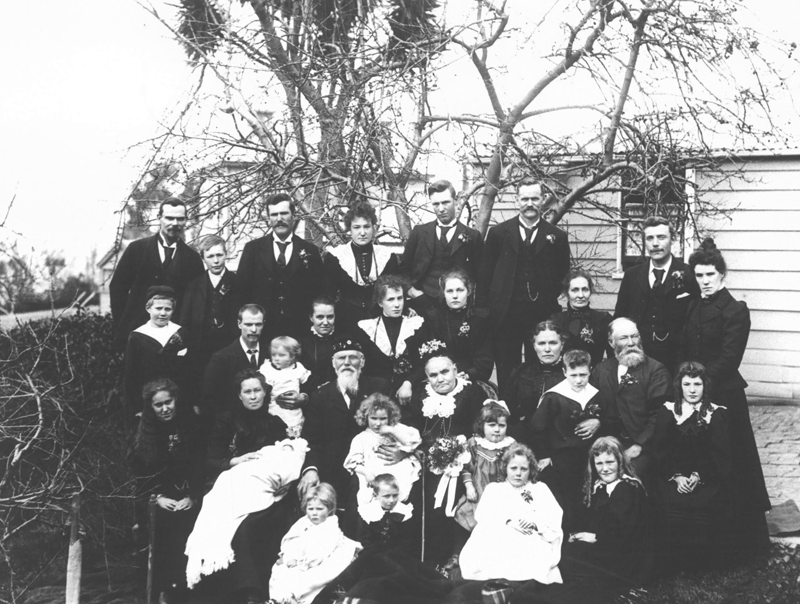 Also present that day was the Reverend A. North of Hanover Street Baptist Church, for John had been an office-bearer and a stalwart supporter of that church for may years. John & Betsy have many present-day descendants still active in the Baptist Church.
In New Zealand, John and Betsy had added further to their family, with Joseph born in 1859, James in 1861, Hannah in 1864, Mary Ann in 1866, John Jr in 1869, and Ada in 1871. Their eldest daughter, Sarah, married Peter Rutherford, the well-known Caversham grocer, in 1874.
A grand-daughter, Mrs. Hilda Gilbert, once recalled that John took his wife and their daughter Hannah "home" to England for a holiday, only to find on their return that his pension had been terminated (September 1890). He petitioned Parliament, without success, and petitioned again. In 1893 Parliament agreed to a grant of 50 pounds ($100.00) a year, and with that he had to be content.
After the death of the couple, 64 Royal Terrace remained "home" for their unmarried son & daughter, Jim and Mary Ann, until it was sold in 1934 to R.T. Throp. Today there is no 64 Royal Terrace: the section was sold again in 1942 to the Dunedin City Council, the house was pulled down, and about 1960 the section was used to widen the newly-formed Corrie Street.
Betsy died on 20 November 1905, aged 77 years old, and John on 6 November 1909, aged 78 years old, both from heart disease. They are buried in the Southern Cemetery in Dunedin.